25. 8. 2021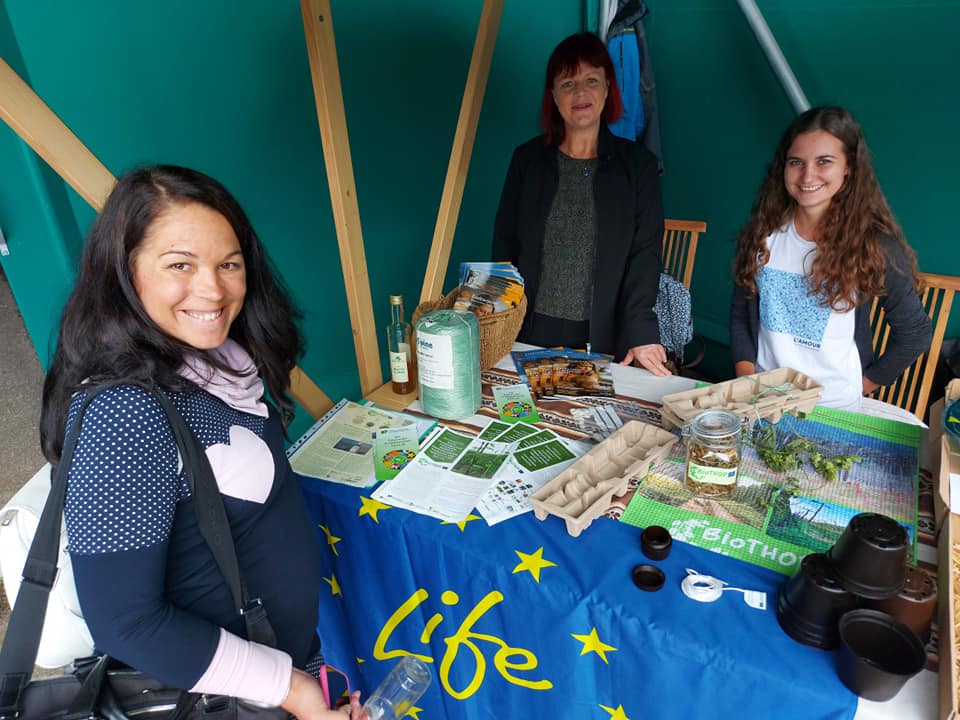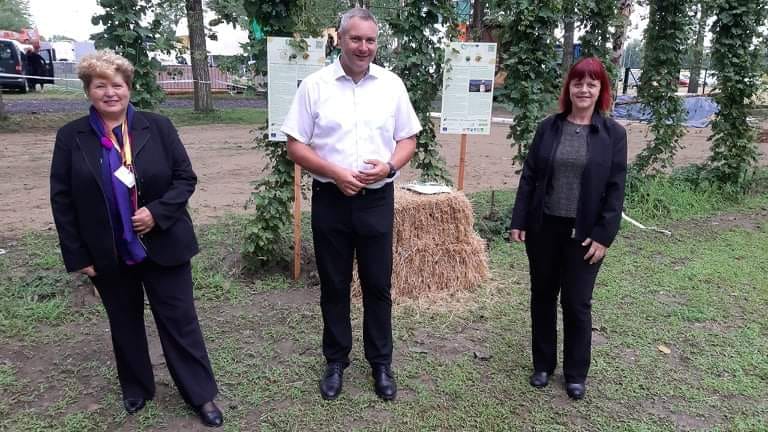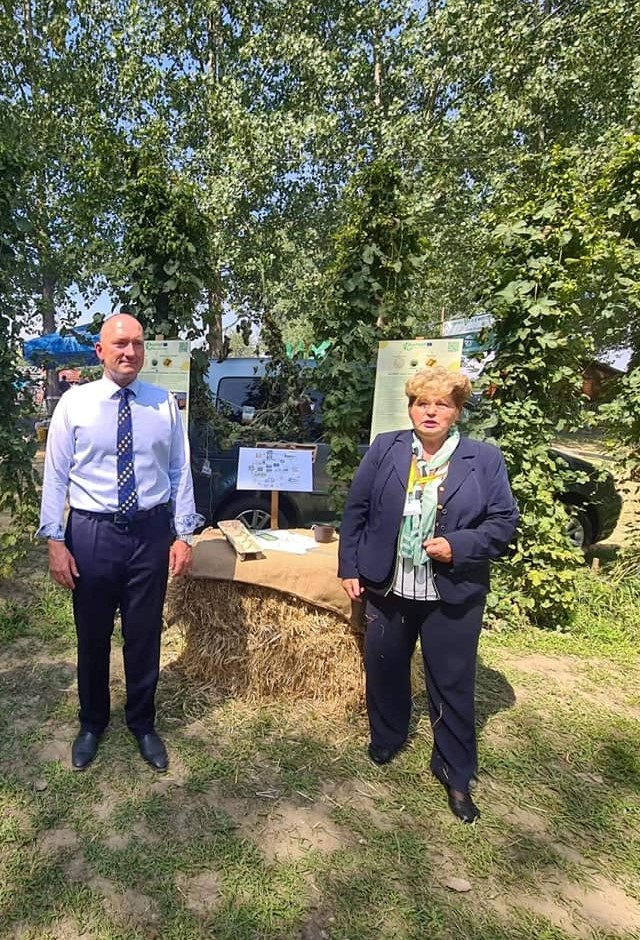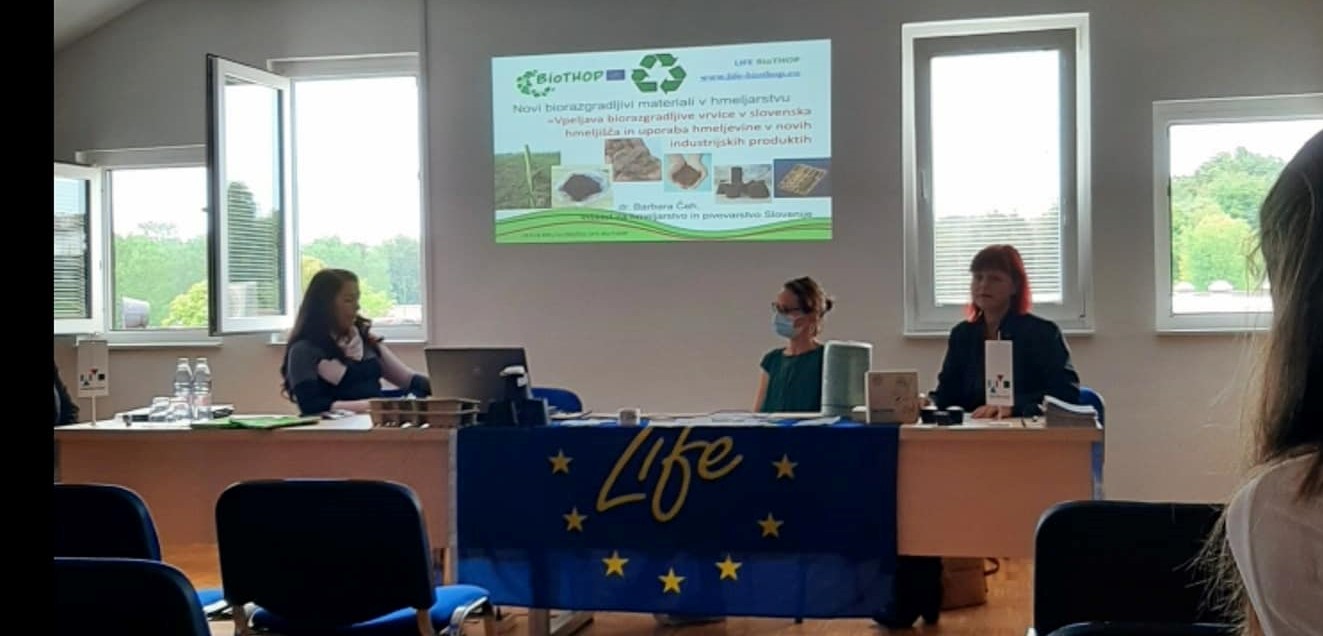 SI
Na 59. mednarodnem kmetijsko-živilskem sejmu AGRA v Gornji Radgoni je bila prisotna tudi ekipa Life BioTHOP. Predstavljeno je bilo biokrožno gospodarstvo v praksi – bioplastika in biorazgradljiva embalaža iz hmeljevine iz Savinjske doline.
AGRA je stičišče novih tehnologij, znanj in izkušenj iz Slovenije in mednarodnega prostora. Sejem prinaša pomemben preboj k trajnostnemu kmetijstvu in z njim povezane živilsko predelovalne industrije, ohranjanju biodiverzitete in zelenemu dogovoru. Sejem AGRA promovira nove tehnologije in nova znanja, hkrati pa učinkovito rabo vsega, kar že imamo na voljo. Zato bo odlična priložnost za prenos novih znanj na slovenska kmetijska gospodarstva in kmetije, za izmenjavo izkušenj na mednarodnem področju, za tkanje novih poslovnih vezi. V sklopu sejma je tudi BioTHOP gostil strokovno srečanje in posvet. Na vzorčnih nasadih je bilo zasajenih tudi nekaj sadik hmelja in za napeljavo uporabljena biorazgradljiva PLA vrvica. Predstavljen je bil model krožnega gospodarstva, kako predelati hmeljevino v primarno surovino za izdelavo komposta na kmetijah (gnojilo) ter vrsto biorazgradljivih izdelkov. Vsi biorazgradljivi izdelki iz hmeljevine so bili razstavljeni na stojnici BioTHOP.
EN
Project Life BioTHOP was presented at the 59th International Agricultural and Food Fair AGRA in Gornja Radgona, Slovenia. The main topic discussed was biocircular economy in practice – bioplastics and biodegradable packaging made of hop biomass from Lower Savinja valley.
AGRA is a hub of new technologies, know-how and experience from Slovenia and the international space. The fair brings an important breakthrough to sustainable agriculture and related food processing industries, the preservation of biodiversity and the Green Deal. Therefore, it is an excellent opportunity for the transfer of new know-how to Slovenian agricultural holdings and farms, for the exchange of experience in the international field, and for paving new business ties. The team BioTHOP prepared professional meeting and consultation for visitors. In addition, a few hop plants intertwined with biodegradable PLA twine were exhibited in a sample garden. It was presented, how hop plant biomass after harvest can be used as main ingredient of composting and afterwards used as a natural fertiliser or material to produce biodegradable products. All biodegradable products were exhibited on BioTHOP stand.