29. 9. 2021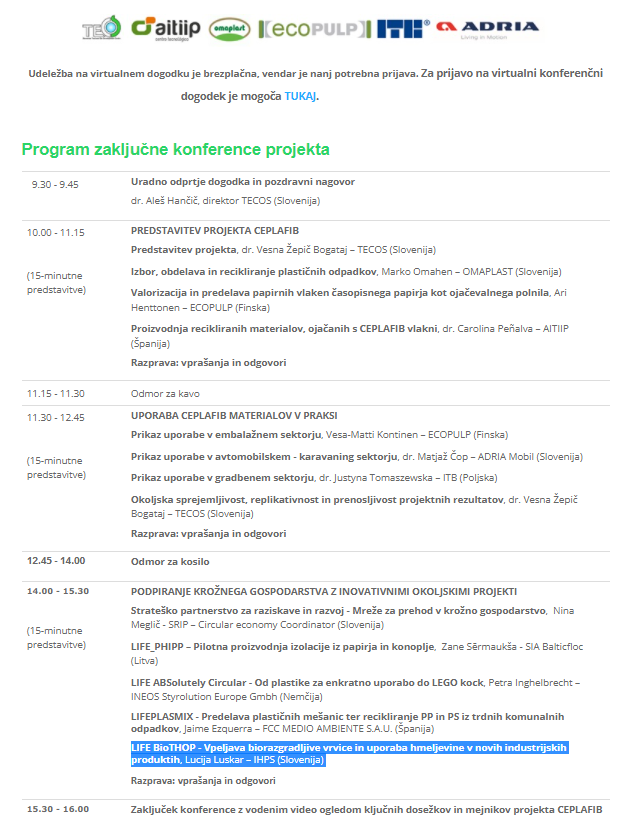 EN The LIFE BioTHOP project was presented at the final conference of the LIFE CEFLAFIB – Valorising the postconsumer PLAstic waste and reclaimed pulp FIBer for three mass-production industrial sectors: Automotive-Caravanning, Packaging & Construction-Building. LIFE CEPLAFIB project aimed and succeed to produce a new material called CEPLAFIB for the protective packaging, automotive-caravanning, and construction-building industries. This 100% recycled composite is made from deinked newsprint paper fibres, recycled polypropylene and high/low-density polyethene post-consumer waste plastics. The goal of the LIFE CEPLAFIB project was to demonstrate that the new material can be produced at a competitive price and that it is suitable for extended manufacturing techniques such as thermoforming and injection moulding.
BioTHOP was presented as one of SUPPORTING THE CIRCULAR ECONOMY WITH INNOVATIVE RECYCLING PROJECTS.
SLO Projekt LIFE BioTHOP je bil predstavljen v okviru zaključne konference projekta LIFE CEFLAFIB – Valorizacija odpadne plastike in predelanega časopisnega papirja za nove izdelke v treh proizvodnih sektorjih: avtomobilska, embalažna in gradbena industrija. V okviru projekta LIFE CEPLAFIB so uspeli razviti nov kompozitni material, imenovan CEPLAFIB, uporaben za proizvodnjo zaščitne embalaže, sestavnih delov v avtomobilski industriji in konstrukcijskih elementov gradbeništvu. Ta 100 % recikliran kompozit je izdelan iz vlaken časopisnega papirja in reciklirane odpadne plastike – polipropilena in polietilena visoke/nizke gostote. S projektom LIFE CEPLAFIB so dokazali, da je nove materiale iz sekundarnih odpadnih surovin mogoče izdelati po konkurenčni ceni s primarnimi viri in da so kot taki primerni za predelavo z razširjenimi proizvodnimi tehnologijami, kot sta termoformiranje in brizganje.
Projekt LIFE BioTHOP je bil predstavljen  v sklopu PODPORE KROŽNI EKONOMIJI Z INOVATIVNIMI PROJEKTI RECIKLIRANJA