14. 7. 2021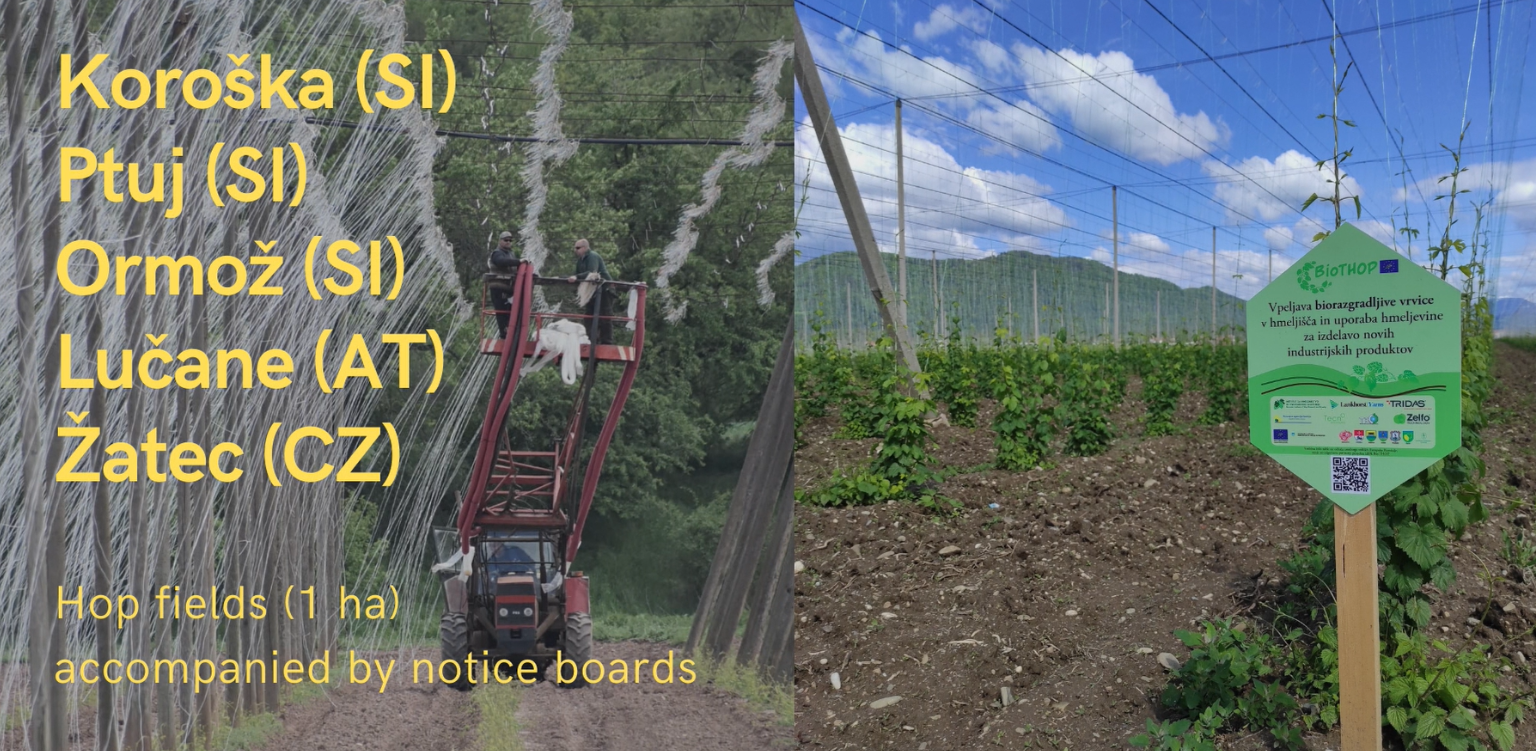 SLO Vrvico BioTHOP smo v letu 2021 napeljali tudi v drugih regijah: Koroška, Ptuj, Ormož (SLO), Lučane (Avstrija) in Žatec (Češka).   Hmeljišča v velikosti 1 ha / regija  so označena z info tablami.  Z vrvico so zadovoljni hmeljarji v Belgiji, kjer sicer uporabljajo plastično vrvico, kot tudi hmeljarji iz Srbije, Francije, Nemčije in Kanade.
Vrvico uporabljajo tudi v drugih kmetijskih sektorjih, pri pridelavi visokega fižola, kumaric in v vinogradih. Testirajo ga tudi v rastlinjaku Kmetijskega inštituta Slovenije in rastlinjaku z akvaponičnim sistemom Zero Waste Žalec za pridelavo paradižnika.
Podjetje TECNOPACKAGING s sedežem v Zaragozi, Španija, je tekom projekta LIFE BioTHOP razvilo  novo materialno formulacijo na osnovi biopolimera mlečne kisline (PLA) in odpadnih vlaken hmelja, ki ga je v tem letu testiralo lokalno podjetje DOLEJŠI modni gumbi d.o.o. iz Šempetra v Spodnji Savinjski dolini. V sodelovanju s partnerjem TECOS iz Celja so izdelali prve biopolimerne gumbe ojačane z vlakni hmelja. Nove priložnosti za validacijo tega materiala iščejo pri izdelavi nakita svoje lastne znamke.  Še nekaj drugih izdelkov iz naših novih BioTHOP materialov pa želijo preiskusiti tudi druga podjetja v Evropi, o čemer trenutno tečejo pogajanja in validacijska testiranja. Oglej si video
EN  BioTHOP twine was sent to 5 replicative regions – Koroška (SI), Ptuj (SI), Ormož (SI), Lučane (AT), and Žatec (CZ), all accompanied by notice boards. They installed it in their hop fields, each on 1 ha. Hop growers from Belgium were interested in BioTHOP twine as well as growers from Serbia, France, Germany, and Canada.
BioTHOP twine was replicated also in other agro-sector, in high bean production, cucumber production and vineyard. The BioTHOP twine is also tasted in a greenhouse at the Kmetijski inštitut Slovenije and in a greenhouse with an aquaponic system at the Zero Waste Žalec for tomato production.
Within the LIFE BioTHOP project, TECNOPACKAGING, from Zaragoza, Spain, developed a new material formulation based on biopolymer of lactic acid (PLA) and waste hop fibre, which was tested this year by the local company DOLEJŠI modni gumbi (fashion buttons) from Šempeter in the Lower Savinja Valley. In cooperation with the partner TECOS from Celje, they produced the first biopolymer buttons reinforced with hop fibre.  They are looking for new opportunities to validate this material in the production of jewellery of their own brand. A few other products from our new BioTHOP materials are also being tested by other companies in Europe, which are currently under negotiation and validation. More at video