26. 10. 2020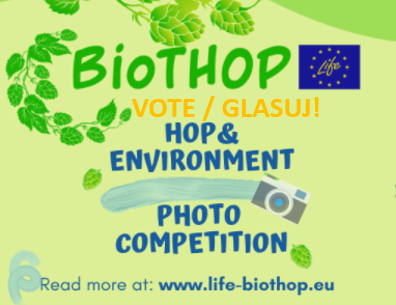 SLO Tema foto natečaja projekta LIFE BioTHOP je bila HMELJ IN OKOLJE – pomen trajnostne pridelave za lepo in zdravo okolje ter sobivanje kmetijstva, prebivalcev in živali. Udeleženci so bili vabljeni, da skozi foto objektiv ujamejo cilje projekta LIFE BioTHOP, pa naj bo na področju skrbi za okolje, krepitev gospodarstva, lepot domačega okolja, mogoče najljubši prostor v domačem okolju, kakšna ekološka rešitev, vključitev hmeljišča v celovito zgodbo, ki so si jo zamislili, delo v hmeljiščih, spravilo hmelja. Komisija je po zaključku natečaja, 30. 09. 2020, izbrala 20 prispelih fotografij in sedaj ste na vrsti vi, da glasujete s klikom na vam najljubšo.
Glasovanje se je začelo 26.10.2020 in se bo zaključilo v ponedeljek 9.11.2020, ko boste določili 3 zmagovalne fotografije. Spletno glasovanje je povsem preprosto, opravite ga s klikom na označeno polje. Upošteva  se en glas istega pošiljatelja z istim IP-naslovom.
Več vas bo glasovalo, bolj napeto bo!
EN The theme of the photo competition of the LIFE BioTHOP project was "HOP AND THE ENVIRONMENT"  in relation to the importance of sustainable land management embodied in the symbiosis of agriculture, humanity, flora and fauna. The participants were invited to capture through the camera lens the objectives of the LIFE BioTHOP project, in the area of environmental care, the strengthening of the economy, the enhancement of domestic life, perhaps a significant aspect of the home environment, an ecological solution encountered in everyday life, or more specific features connected to the wider spectrum of hop cultivation; from the field to the end product and the closing of the 'circular economy' loop. After the end of the competition, on September 30, 2020, the competition Commission selected 20 finalists and now it is your turn to vote by clicking on your favourite.
Voting started on 26.10.2020 and will end on Monday 9.11.2020 when you determine the 3 winning photos. Online voting is simple, by clicking on the marked box. One vote of the same sender with the same IP address is taken into account.
Vote for the best photo!